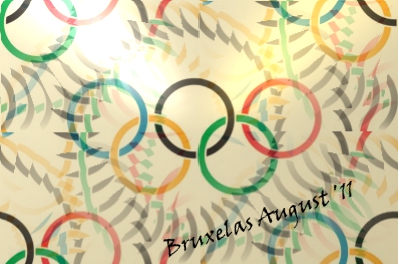 It is a
pleasure
for all
Fairview
citizens and to AIN to announce that our candidate city,
Bruxelas
, will strongly run for the next June '11
Simlympics
. We are preparing this bid since two years ago and we are ready to impress people with our beautiful city located near the Mediterranean Sea, which has a
great temperature in the summer.
Bruxelas is the capital of Fairview Democratic Republic, in the south of Iberian Peninsule and counts with about 412,556 inhabitants in all metropolitan area. We decided to make a
little FAQ
with few questions about Bruxelas bid:
1. Where can I visit Fairview city journal?
Answer: You can visit our CJ in the Simtropolis website or in the AIN site, we also have a wiki page being constructed:
http://www.simtropolis.com/forum/journals/1891-fairview-democratic-republic-full-member-of-ain/
http://www.aoin.eu/f129-fairview-democratic-republic
http://aoin.wikia.com/wiki/Fairview
2. Why is Bruxelas bidding for this games?
We are bidding for this games because our country offers a
really great summer with hot, a bright sky, amazing food and seafood
and because we have been preparing for this bid such a long time ago that we feel that we are a hundred percent ready for host the most important international event.
3. Are the hotels and attractions ensured?
Yes, everything is ensured.
Many of the biggest hotels companies have economic and luxury hotels in Bruxelas and, of course, around the country
. If you want to relax after the games you can also book a room in one of the many Nature Tourism Hotels around the country.
About attractions,
Bruxelas has a long, long history his modern glass architeture meets the old Paris style palaces and some medieval buildings. The Historical center is cutted to the transit all the year, so you can enjoy the sunset during you are drinking a Coca-cola our Pepsi in a caffe esplanade
. Bruxelas Center is a very night city, never sleeps you will have always something to do in the night.
4. What languages you speak in Fairview?
Our official language is Portuguese, 96,8% of population speaks it. We also speak Spain in the extreme east of the country.
Take it easy
! Every employee knows how to speak English!
É um
prazer
para todos os
cidadãos de Fairview
e para a AIN anunciar que a nossa
cidade candidata, Bruxelas
, irá fortemente correr para o próximo mês de
junho '11 Simlympics
. Estamos a preparar esta candidatura desde há dois anos e estamos prontos para
impressionar
as pessoas com a nossa bela cidade situada perto do Mar Mediterrâneo, que tem uma
temperatura muito agradável no verão
. Bruxelas é a capital da República Democrática Fairview, no sul da Peninsula Ibérica e conta com cerca de 412.556 habitantes em toda a área metropolitana. Decidimos fazer uma
pequena FAQ
com algumas perguntas sobre a candidatura de Bruxelas:
1. Onde posso visitar o jornal de Fairview?
Resposta: Você pode visitar nosso CJ no site Simtropolis ou no site AIN, também temos uma página wiki em construção:
http://www.simtropolis.com/forum/journals/1891-fairview-democratic-republic-full-member-of-ain/
http://www.aoin.eu/f129-fairview-democratic-republic
http://aoin.wikia.com/wiki/Fairview
2. Porque é que Bruxelas candidatou-se para estes jogos?
Estamos candidatos a estes jogos
nosso país oferece um verão quente, um céu claro, a comida maravilhosa e frutos do mar
porque o e porque temos vindo a preparar para esta candidatura, há muito tempo que sentimos que estamos a cem por cento pronto para sediar o evento desportivo internacional mais importante.
3. São os hotéis e atrações garantidos?
Sim, está tudo garantido.
Muitas das maiores empresas de hotelaria têm hotéis económicos e de luxo em Bruxelas e, claro, todo o país
. Se quiser relaxar após os jogos você também pode reservar um quarto num dos muitos Hotéis Turismo de Natureza em todo o país.
Falando de atrações,
Bruxelas tem uma história longa, longa, a sua arquitetura de vidro moderno encontra-se com o velho estilo dos palácios de Paris e de alguns edifícios medievais. O centro histórico é cortado ao trânsito durante todo o ano, assim poderá desfrutar do sol enquante bebe uma Coca-Cola, Pepsi em nossa esplanada caffe. Centro de Bruxelas é uma cidade muito amiga da noite

,
nunca dorme, você terá sempre algo para fazer à noite.
4. Que idiomas você fala em Fairview?
A nossa língua oficial é o Português, 96,8% da população fala-o. Também falamos Espanhol, no extremo leste do país. Não se assuste! Cada empregado sabe falar Inglês!
Last edited by miguelleal1 on Wed Mar 09, 2011 1:58 am; edited 1 time in total



Number of posts

: 64


Registration date

: 2010-05-01



For the record Miguel, the June bidding is occurring right now

Former Simlympic Host




Number of posts

: 1390


Registration date

: 2009-07-28


Location

: Portland, OR, USA



I know!




Number of posts

: 64


Registration date

: 2010-05-01



Then you should post this outside of the future bids forum and in this (
link
) forum instead

Former Simlympic Host




Number of posts

: 1390


Registration date

: 2009-07-28


Location

: Portland, OR, USA



K50 is correct if you are bidding an Official Bid must be posted in the appropriate section and in the appropriate format
One thread for the Bid
and one thread for comments
both should be titled to announce which is which and both shall be posted in the June '11 bids thread located
here
ISC Executive





Number of posts

: 3503


Registration date

: 2008-02-26


Age

: 39


Location

: RV City,Rorysvile(Highlands,NJ USA)





Similar topics
---
Permissions in this forum:
You
cannot
reply to topics in this forum