The 2009 Raffore Islands Civil Crisis is the worst crisis that happen on Raffore Islands in its history. The once invulnerable country is not on the brink of collapse. The crisis is a chain of events happening on Raffore Islands. The list below is the timeline of the main events.

2008
Dec 17 - Detection of a single invisible spaceship on its Ghosting Radar along its border of the Gaia Sector

2009
Jan 4 - Rasa sent Rasa R600 Frigate to check on the invisible spaceships (by now, it reached 138)
Jan 10 - Detection of invisible spaceships (by now, it reached to 500) reported to COFR nations
Jan 14 - An escape pod from the Dangerous Sector of the Milky Way (Fornax Sector) crashed landed on South China Sea near Raffore Islands
Jan 15 - Tremors (1.9 to 4.0 on Richter Scale) felt in the South East Asian region
Jan 18 - Tremor occurances increase from 2 per day to 7 per day and magnitude increased
Jan 18 - One of the three unconsious human found inside escape pod told story on the reason why the escape pod is enroute to Earth
Jan 20 - Small detection of radiation over Ubin Island, just directly northeast of Raffore Islands
Jan 20 - UN told every nation t prepare for possible space war
Jan 21 - Radiation content only contains 1 new elements, no other radioactive decays
Jan 23 - Full evacuation of several northeastern towns on Raffore Islands due to spread of the radiation
Jan 25 - New element found renamed to unhexennium
Jan 25 - Full evacuation on more towns on eastern region of Raffore Islands
Jan 27 - Raffore Government orders the whole of Raffore Islands to be evacuated
Jan 27 - Unhexennium renamed to aranium
Jan 28 - UN ordered that Raffore Islands sealed off its borders
Jan 28 - Stock markets worldwide and galaxy-wide tumble, ranging from 3% to over 50% drop
Jan 31 - UN urges Singapore, Malaysia, Indonesia and Brunei to evacuation the whole country immediately


More details in next few posts.
Last edited by Aranho on Tue Feb 03, 2009 1:06 am; edited 2 times in total
Former Simlympic Host




Number of posts

: 1146


Registration date

: 2008-10-18


Age

: 25


Location

: Singapore



Ever since Raffore Islands entered the space race in December 2008, it has found new space technology. Once of its space technology is the Ghosting ability. The Ghosting ability is able to detect all invisible and sleath objects in the air or in space. Only Rasa's wide-range spaceships are equipped with this ability.
However, ever since Rasa have this ability, the Rasa have always detect strange spaceship-like object within the Dangerous Setor near the Gaia Border. At first, when Rasa have this ability, only one dot appeared on the screen. However, as New Year's eve approaches, the number of dots grew. Here are some statistics on the number of dots seen on the screen per day:
Dec 17 to Dec 24 - 1
Dec 25 to Dec 28 - 2
Dec 29 - 4
Dec 30 - 27
Dec 31 - 49
Jan 01 - 58
Jan 02 - 60
Jan 03 - 62
Jan 04 - 138
Jan 05 - 145
Jan 06 - 192
Jan 07 - 222
Jan 08 - 254
Jan 09 - 248
Jan 10 - 500
Jan 11 - 602
Jan 12 - 668
Jan 13 - 700
Jan 14 - 742
Jan 15 - 795
Jan 16 - 860
Jan 17 - 979
Jan 18 - 1038
Jan 19 - 1246
Jan 20 - 1300
It's not the numbers that is scaring Rasa. On Janaury 4, Rasa have sent a Rasa R600 to check out on the spaceship-like objects that kept on appearing on the screen. To their surprise, the spaceship is about thrice the sie of the R600, and it is invisible. Also, as the days go by, those spaceship-like objects kept on inching closer to the border.
Rasa currently don't know what are those objects doing, but Rasa is suspecting that these objects are tryng to cross the border without permission and are trying to conquer Gaia sector, putting Earth at huge risk. To prepare for this, all Rasa spaceships are now on stand-by to get ready for a possible clash.
~~~~~~~~~~~~~~~~~~~~~~~~~~~~~~~~~~~~~~~~~~~
Off-topic: In case you don't understand what I am talking about, here's some info:
The map of COFR's space territories
Rasa (or Raffore Space Authority) is Raffore Islands' only company/authority into Raffore's space production.
Rasa R600 Frigate is one of the wide-range spaceships created by Rasa
Former Simlympic Host




Number of posts

: 1146


Registration date

: 2008-10-18


Age

: 25


Location

: Singapore



On the night on Jan 13 at Raffore Space Port, the people at the EAS (Earth Atmosphere Scanner) Room are on night shift and are busying tracking any movements on the Earth's atmosphere. Objects were detected but they are just satellites. everything seems to be usual.
However, at 2 am, the radar have picked up something: an objects seems to be travelling into the Earth's atmopshere and towards Earth's surface. Alerted, the personnel alerted the Rasa Main Control Center and three Rasa R200 Longsword were sent to find out what the object was. When the R300s reached to the object, it seems to be travelling at a speed of a jumbo-jet. It also appears to be an escape pod. Without taking any further actions, the R300s follow the object all the way to Earth just in case.
As the objects inched closer to the Earth's surface, it seems to be travelling towards South East Asia. 45 minutes has past and it seems to be more clear that it is heading towards the direction of the South China Sea between Singapore and Bangorai'. About an hour after it was detected on the radar, it has impact on the ocean surface at 03 14 hours (GMT +8:00) at the location marked (the pink circle) on the map.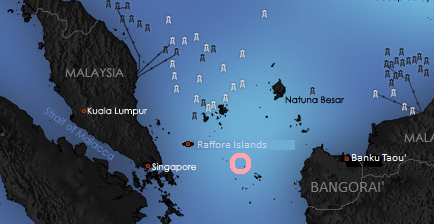 Immediately after impact, Raffore Naval Force and Raffore Air Force immediately went over to the impact site for a search and rescue. With the help of two Rasa R100 Pelican, the object was lifted by air to Raffore Space Port placed indoors to prevent any rain contact. Rasa and Raffore Police Force will conduct a check on the object to identify what the object was. No foreign help are allowed to examine the object.
~~~~~~~~~~~~~~~~~~~~~~~~~~~~~~~~~~~~~~~
Rasa have found out that the object was some sort of an escape pod. Rasa have managed to open the escape pod and found three unconsious humans inside the pod. The three of them were immediately sent to the nearest hospital, Bayshore General Hospital. The escape pod seems to be from the direction of the Dangerous Region, and it seems to be from Planet M 0887 YYz.
Meanwhile, tremors have been reported from around South East Asia ever since the escape pod impact on Earth, with most of the tremors reported from Raffore Islands. All tremors have been within the range of 1.9 to 4.0 on the Richter Scale throughout the whole region. Strangely, the epicenter has been coming from Ubin Island just northeast of Raffore Islands. No damage has been reported so far.
Former Simlympic Host




Number of posts

: 1146


Registration date

: 2008-10-18


Age

: 25


Location

: Singapore



The tremors occuring around the South East Asian regions have increased, from two tremors per day to seven tremors per day. In addition, the tremor's range has risen from 1.9 - 4.0 on the Richter Scale to 2.3 - 5.1 on the richter scale, strong enough to be classified as an earthquake. Due to this, there has been fears of tsunamis within the South East Asian region, with Raffore Islands expected to suffer the worse damage from the tsunamis.

About the escape pod, it appears that something or someone has tried to damage or destroy the escape pod. One of the three unconsious human found inside the escape pod finally regain consiousness. After he was deemed alright, a Rasa personnel asked him what did the escape pod travelled to Earth. Here's what he said (the shorter version):

Me, together with two other guys, are on a mission to deactivate an object to avoid a catastrophe. The object, once activated, will give out a beam of light which will absorb all the elements on Earth, ultimately killing every living organisms on Earth and making Earth unbarren, which the Earth will disappear. Any objects that touches the light beam will getits elements absorbed by the light.

The object is believed to be on Earth in the South East Asian region. The object is expected at be activated in a few months time. Prior to that, vibration from the objects can be felt and can be mistaken as an earthquake. These vibrations will increase as the date goes nearer but the vibration will only cause minor damages.

Although dangerous, most people from the planets in the Fornax sector of the Milky Way, or the Dangerous Regions to the people on Earth, have been brainwashed into thinking that the light beam will give everyone a blessing and eternal life. The light beam is expected to travel into the Fornax sector but the path of the light beam is unknown.

However, when the three of us found out the real meaning of the light beam, we quickly hijack a spaceship to travel to Earth to find a way to deactivate the light beam. When our planet military found out about this, they quickly send a space military troop to attack and destroy the spaceship we hijacked. The spaceship was destroyed, but we have escaped via the escape pod. The military kept on firing at us but when we cross the Gaia border, they stopped firing.

~~~~~~~~~~~~~~~~~~~~~~~~~~~~~~~~~~`

The National Healthcare Authority (NHA) of Raffore Islands have just detected a small radiation level over Ubin Island Nature Reserve at 7.07 pm on January 20 2009 (GMT +8:00). This news was alerted to the government and a full evacuation of the island is ordered. The Pelican Emergency Center on that island pus the ferry service will be on full swing.

There are about 1200 residents on Ubin Island alone and all of them are to be evacuated from Ubin Island. It has also been reported that there was a huge group of secondary three students from a particular school that were having an Outward Bound Raffore (OBR) camp on Ubin Island. With the OBR boats ready, the student campers are now being evacuated. All ferry and air service towards Ubin Island will be temporarily cancelled.

Water supplies from Ubin Reservoir has been cut off as a safety precaution. As Ubin Reservoir provides about 9.7% of water to Raffore Islands, it will be expected that there maybe a shortage of water supplies to all buildings on Raffore Islands. However, should the water shortage worsen, there will be a water ration throughout the whole country.

After everyone on the island is evacuated, NHA and Rasa will go to Ubin Island to investigate the cause of the radiation and what radioactive decay elements are present.

~~~~~~~~~~~~~~~~~~~~~~~~~~~~~

The Raffore Government have recommended all tourist not to travel to Raffore Islands at this moment. Tourist on Raffore Islands are also recommended to travel back to their homeland to avoid possible radiation contact.

For citizens of Raffore Islands, mass evacuation of Raffore Islands will take place should the radiation levels got worse. However, it is recommended that the citizens of Raffore Islands evacuate of Raffore Islands early as the growth of the radiation levels is unforeseenable.

NHA will continue to check on the radiation levels over Ubin Island and around Raffore Islands. The radiation levels have so far been spotted in small amounts on Ubin Island only.

About the evacuation of Ubin Island, everyone has been evacuated and it has been closed to the members of the public. the people that has been evacuated shows no sign of any radiation contact. NHA and Rasa are now investigating on the radiation.

For your information, Ubin Island is an small island located off the northeastern coast of Raffore Islands.

Meanwhile, there has been a lot of speculations that the growth of the number of spaceship-like objects, the landing of the escape pod, the unknown light beam and the recent sudden radiation levels are all linked together. Members of the United Nations said that there will be a high possibility of a new space war between Gaia and Fornax. The UN have recommended all nations on Earth to prepare for such war should it happen.

~~~~~~~~~~~~~~~~~~~~~~~~~~~~~~~~~~~~~~

NHA and Rasa have finished conducting the investigation of the radiation. To their surprise, the radiation does not contain any elements that matches any of the elements of the periodic table. Suspecting it is a new kind of elements, several air samples were collected and will be send back to the laboratory for further testing.

The radiation level is going up slowly. No further evacuation is needed for now although it is recommended that everyone is to be evacuated from Raffore Islands. So far, several people has evacuated Raffore Islands.

Rasa is currently working on a new technology to get rid of any radiation. The new technology will be tested at the Chernobyl Nuclear Power Plant site to see if it is successful.

Meanwhile, the other two people inside the escape pod has regain consiousness and said a silimar version as the first one. The government now has worried that the light beam will destroy humanity and will now corperate with the three people to stop the light beam from activated.

About the tremors, the tremors occuring around the South East Asian regions have continued to increased, from seven to ten tremors per day. In addition, the tremor's range has risen from 2.3 - 5.1 on the Richter Scale to 3.4 - 6.0 on the richter scale. So far no damages have been reported but several people has been admitted to hospital due to severe headaches. Tsunami evacuation drill has been conducted in several countries to prepare for possible tsunamis.
Former Simlympic Host




Number of posts

: 1146


Registration date

: 2008-10-18


Age

: 25


Location

: Singapore



Here's a little something to spice things up.

~~~~~~~~~~~~~~~~~~~~~~~~~~~~~~~~~~~~~~~~~~~

It is daytime yet the whole world seems to experience night time. But it's too bright to be night time, yet too dark to be day time. Still, nothing can ever stop one man from preventing the activation of the light beam. Time is running out. The whole universe will be gone in a matter of seconds. Only he must do something quickly to stop the activation.

He is dashing through the dense and dark jungle, soaked in sweat from head to toe and panting heavily like a thristy dog who didn't drink for days, while holding some strange object on his left hand. Yet, his difficulties didn't stop him from running to the structure.

Out of the blue, the whole ground shook violently for a couple of seconds as if a volcanic eruption has occured. The man was thrown of his feet as the ground shook, ending up a metre or two away. Realizing that the end is near, he quickly pick himself up and tries his best to reach to the structure. However ever, it was too late.

As he emerged from the dense vegetation, all hopes on him was gone. The structure first emitted a small beam of blue light, producing an eerie buzzing sound. In a split of a second, the radius of the light beam grew rapidly and exploded, filling the whole world with an extremely bright white light.

Prime Minister James Wee then opened his eyes. His whole body is sweating and his breathing seems abnormal. Luckily, it was all just a dream. But it seems real, too real to become a dream...
Former Simlympic Host




Number of posts

: 1146


Registration date

: 2008-10-18


Age

: 25


Location

: Singapore



Here's a news article from The Rafforian Times:
Full evacuation of Changi City, Halus
Radiation levels get worse
Raffore City – Several areas of the Western state of Raffore Islands was given an full evacuation alert yesterday at January 23 2009 at around 6 pm as the radiation levels have nearly reached to the mainland.
Changi City and Halus were given the full evacuation alert together with Pasir Ris. All public transportation route travelling into these areas have been closed. Rasa R100 Pelicans are currently being used to pick up the pace of the evacuation. Several hotels on the Eastern and Central parts of Raffore Islands have been transformed to a evacuee shelter. Immediately after the full evacuation alert was displayed, massive traffic congestions took place within these areas.
From 6 am tomorrow onwards, all businesses in the areas mentioned will have to be temporary closed down. Due to the fact that Raffore City is a business district, it is estimated that about 80 000 people will be affected.
The radiation levels have grown rapidly last night and it is ready to reach to the areas currently being evacuated as on press time. According to the National Healthcare Authority and Raffore Space Authority, none of the classified radioactive decay was found on site but an unknown substances was found in the air at the radiation area. A sample of the unknown substances has been sent to the secret laboratory on Raffore Islands for further investigation.
Ever since the government recommended everyone on Raffore Islands to evacuate as soon as possible, a total of 140 000 citizens of Raffore Islands have evacuated from Raffore Islands with more than 65 000 people fleeing to Singapore. The number of tourist arrivals have also dropped significantly.
~~~~~~~~~~~~~~~~~~~~~~~~~~~~~~~~~~~
Rasa's investigation on the new elements have found out that it contains 169 protons. This new element is now named as unhexennium (Uhe). Surprisingly, further test have shown that unhexennium is actually neither a trace radioisotope nor a synthetic element, meaning that it is a primordial element as it has a half life of more than 10
8
. However, it is still unknown whether unhexennium can be found on other parts of Earth.
Still, as a precaution, areas affected by this radiation level will still undergo evacuation. The radiation has now entered Pasir Ris, Changi City and Halus. As a precaution, Coney, Punggol, Sengkang, Elias, Tampines and Simei has been given the full evacuation alert. Samudera, Piccadilly, Anchorvale, Tongkang, Hougang, Ubi, Kaki Bukit, Bedok, Limau and Laguna has been given the standby evacuation alert.
In addition, on if the largest reservoir on Raffore Islands, Bedok Reservoir, will be shut down to prevent contamination in the country's water pipeline. Since Bedok Reservoir is the main water supply to all areas in Eastern Raffore Islands, including Changi City and Marine Parade Regional Center, water supplies in the Eastern region of Raffore Islands will be severely affected, affected more than 900,000 households. In light of this, the Western state of Raffore Islands is given the state of emergency. Water ration will be starting in Western Raffore Islands shortly.
In other stuff, the tremors has gotten worse. The occurance is now increased from 10 tremors per day to 13 tremors per day. The range has also increased from 3.4 - 6.0 on the Richter Scale to 4.8 - 6.5. Minor damages has been reported in Indonesia where several village houses has collapsed, no casualties . Cracks began to appear in several buildings in Raffore Islands, Singapore and Bangkok.
A minor tsunami of 50 cm has occured on the western coast of Borneo. No damages from the tsunami has been reported. More people have been admitted to hospital due to severe headaches and repeadted nausea feeling. 1 person on Raffore Islands has been admitted to Intensive Care Unit as a falling flower pot fell on his head due a 6.5 tremor that occured on Raffore Islands at around 3 pm on Jan 25 2009.
Former Simlympic Host




Number of posts

: 1146


Registration date

: 2008-10-18


Age

: 25


Location

: Singapore



Here's an image of the speed of the spreading of the unhexennium.
(
Link to larger image
)
For those who can't see those small words of the pale yellow circles, here's a legend:
Smallest circle: 20/01/09 19:07
Second smallest circle: 23/01/09 17:56
Second largest circle: 26/01/09 20:17
Largest circle: 27/01/09 02:36
Should the spread of the unhexennium continue at this speed, within 3 days time on 30/01/09, the whole of Raffore Islands will contain trace of unhexennium.
Also, the yellow diamond on the map indicates the possible source of unhexennium. Further investigation of the source of the unhexennium will continue.
~~~~~~~~~~~~~~~~~~~~~~~~~~~~~~~~
The government has declared the whole country in a state of emergency and orders an immediate evacuation of all people on Raffore Islands as a precaution. Here's what going to happen:
Flights and Ferries to Raffore Islands
All flights and ferries travelling towards Raffore Islands will be cancelled. All oncoming flights will land at the following airports:
Singapore, Changi Int. Airport (for Star Alliance and RIA planes only)
Singapore, Paya Lebar Airbase (for military and cargo planes only)
Singapore, Seletar Airport (for small planes only)
Malaysia, Kuala Lumpur Int. Airport
Bangorai', Banku Taou' Int. Airport
Thailand, Suvarnabhumi Int. Airport (New Bangkok Int. Airport)
Kaibesia, Mae Suya Int. Airport
Oncoming Ferries will have to dock at any Singapore ports.
People
Everyone on Raffore Islands must evacuate Raffore Islands as a precaution. Everyone will have to proceed to the following places for evacuation:
Tourist City Int. Airport
Raffore Space Port
Senoko Cargo Airport
Pierce Military Airbase
All Rasa R100 Pelicans & Rasa R300 Phantom will be use to transport people from their homes to the evacuation airports and evacuee shelters. All Rafforians are required to take along their Identity Cards and Passports so that the Rafforian Authority will know that these people are citizens of Raffore Islands.
Airplanes
All airplanes on Raffore Islands must leave with a full capacity. Any airplanes leaving with a not-full capacity will be get a fine from the Rafforian Authority. All these airplanes must only fly to the following cities as these cities will check if any of the passenger have been contaminated:
Johor Bahru, Malaysia (RIA planes only)
Kuala Lumpur, Malaysia
Bangkok, Thailand (Star Alliance planes only)
Banku Taou', Bangorai'
Mae Suya, Kaibesia
Hong Kong, China
Shanghai, China
Tokyo, Japan
Los Angeles, USA (USA airline planes only)
Sydney, Australia
New Delhi, India
Glasgow, UK (European airline planes only)
Paris, France (European airline planes only)
Jenova, Diesmaran Empire (spacecrafts only)
Any planes on Raffore Islands will not be allowed to land at any other cities. All airlines on Raffore Islands must provide free air tickets at increase the frequency of the evacuation.
Supplies
All water and power supplies will be shut off throughout the whole country except those specified by the government. Food and water supplies will be provided at the evacuation airports and all hotels (all hotels will be turned into evacuee shelters).
~~~~~~~~~~~~~~~~~~~~~~~~~~~~~
Scientific researches have shown that the reason why unhexennium can spread very quickly is due to this:
Unhexennium are able to react carbon dioxide or carbon in the air to form carbon unhexennium (Uhe
4n
C
n
) plus oxygen gas. It can also react with water vapour or hydrogen to form hydrogen unhexennium (H
2n
Uhe
n
).
These compounds have been proven to be harmless.
From now onwards, unhexennium will be known as Aranium (with chemical symbol as Ar), which was named after a Rafforian scientist who discover the number of protons found on Aranium.
~~~~~~~~~~~~~~~~~~~~~~~~~~~~~~~~~~~
Here's the latest image release on the spread of aranium.
(
Click here for larger image
)
Due to this shocking rate of the spreading, the United Nations ordered that Raffore Islands is to be shut down and all remaining people on Raffore Islands will have to be immediately evacuated. So for, only about 1 million people are left on the nation.
Also, the UN urges that all investigations and research on aranium are a must as the evacuation can be cancelled if aranium proves to be non-radioactive.
About the spread of aranium, the UN urges that Malaysia, Singapore, Indonesia and Brunei to begin evacuation immediately as a precaution. All other ASEAN members will have to prepare for massive evacuation.
Former Simlympic Host




Number of posts

: 1146


Registration date

: 2008-10-18


Age

: 25


Location

: Singapore




---
Permissions in this forum:
You
cannot
reply to topics in this forum