The Daily Simlympics Torch Relay Examiner is proud to announce the first addtion of the wonderful headlines of the Torch Relay events...

Be on the look out for more information here soon....

8pm CST Wednesday March 11th for the first addition....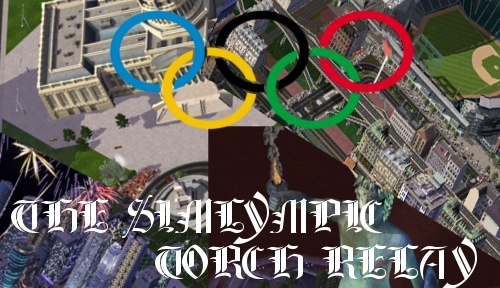 That is right Simlympics Torch Relay information Is now here!!!
OK everyone welcome to the Torch Relay sign up thread... What changes are coming for this round is pretty different indeed but we believe this will make it more exciting and fun to particpate in... What has been decided is to have a 7 day leg instead of the last one running for several days prior... So for the April Simlympics we are going to be starting on March 24th thru March 31st... Anyone is that has a city and can take the time to devote to their day is all the requirments to run a leg of the Torch Relay....
So now what I am looking for is anyone intrested in really wanting the Torch relay to come threw your city? If you want it to come threw let me know here asap as I will be only accpeting applications for those date until March 21st... This will be a first come first served bases... So if you are intrested please let me know here and I will then contact you via pm for a date arrangement...
To sign up please come to this thread
here [linkie]
where you will be able to see the dates avaible....
OK newest update of dates are still avaible and the time is ticking down closer to the last day...

---
Permissions in this forum:
You
cannot
reply to topics in this forum